Hijiori Onsen Tourism Liner( Airport - Hijiori Onsen )
Tourism Liner "Yamagata Airport-Hijiori Onsen" is now in service!
Access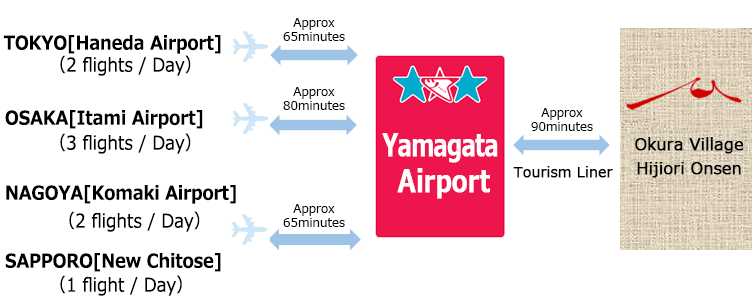 Schedule October.25-March.27

Fare
Adult5000yen
Child1750yen
*Child (1 year old ~ elementary school student)
*In case of the use more than two, the fare is 3500yen per one
*Payment/ Please pay the fare in cash when getting off the bus
How to take Hijiori Onsen Tourism Liner
Please make a reservation 2 days before your arrival to your accomodation or call Hijiori-Ideyukan at (0233-34-6106).
About Hijiori Onsen
Hijiori Onsen has a history of over 1,200 years, and anecdotes say that an old priest who broke his elbow healed his injury with the hot water long ago. You will be fully satisfied with the nostalgic atmosphere and the relaxed time flow, the exquisite Onsen and the various dishes. The more attractive the Hijiori hot spring is, the more it will increase.
To Hijiori Onsen official website